Where is the best place to learn English in Malta and Gozo?
If you are looking for an English language school in Malta or Gozo, International House Malta-Gozo ticks all the boxes. We are a small boutique English language school that caters for all people who wish to learn, practise or improve their English language skills.
Our main all-year round operation is in Swieqi Malta, our Adult Centre (18+), in the popular St Julian's area. We also offer an all-inclusive Young Learners programme in the summer months. Popularly known as JuniorSkool and TeenSkool the programme is operated in the 4* Paradise Bay Resort Hotel and runs from the first week of June till the middle of August.
In Gozo we offer a teacher homestay programme although plans are advanced to set up a centre of excellence for English language learning.
As members of the International House World Organisation (www.ihworld.com), EAQUALS (European Association for Quality Language Services – www.eaquals.org) and FELTOM (Federation of English Language Teaching Organisations Malta – www.feltom.com) English language courses are of the highest guaranteed standard.
International House Adult Centre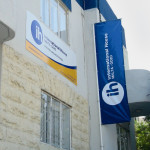 Situated in the heart of the popular St Julian's / Paceville area, the school is less than a five minute walk to the sandy beach of St. George's Bay, Malta's top entertainment area and all other amenities. An added bonus is that we run a school Residence which is not more than a two minute walk away from the adult centre as well as host families and apartments which are all in the area.
JuniorSkool (10 – 13 years) and TeenSkool (4 – 16 years) at Paradise Bay Resort Hotel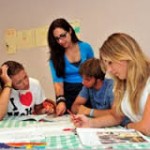 Extremely popular with parents who want only the best English Language experience for their children, the programme offers an English culture experience. Held in the safe environment of the Paradise Bay Resort Hotel, with 24/7 supervision, two cultural / sports activites a day and backed by a ten-year experience, this young learners centre offers the best all-round solution as an English language school in Malta.
International House in Gozo
Our present operation on the picturesque island of Gozo is limited to teacher homestay. Extremely popular and booked well in advance this programme offers the ultimate English course.
Plans are at an advanced stage to set up a centre of excellence, backed by an internationally acclaimed teaching team, offering Business English, teacher training and an examination centre.
Small and pleasant school! Teachers and staff are nice and available + the Maltese climat … perfect. I advise it!
- Fabien Frezard | France | Intermediate
This experience was full of emotions and friends. I could write two different books called 'From Malta'. Teachers are very good people and are really professional – all of them. I'm glad that I got to know all of them.
- Nadejda Dimcheva | 28yrs | Bulgarian | Pre Intermediate
This is my second experience with IH Malta-Gozo. I am sure there will be a third one. Everything is as you can imagine. I feel richer.
- Marco Fontana | 44yrs | Italian | Upper Intermediate
I had a really good time. I think I improved my English. My teacher Suzy was very friendly and her lessons were good. My flatmates were very friendly too.
- Fabio Trevisson | 24yrs | Italian | Intermediate
For me Malta was a great experience. The school is very good. Teachers are beautiful. And the reception is very good too. Accommodation is OK, and breakfast and dinner is very good thanks to Anna & Ray (host family).
- Luciano Angioni |67yrs | Italian | Elementary
For me, Malta and IH Malta was wonderful.  I had excellent teachers.  The staff was always helpful and very kind.  Although there were a lot of Brazilians, my English improved.  I met very nice students, the school is nice, the host family was very good, and Malta has nice places and beautiful landscapes.  I loved it.  It was a fantastic experience.
- Jose Cardoso Neto | 58yrs | Brazil | Pre-Intermediate
My new experience to study English in Malta was very exciting at my age.  It was so much positive because I felt welcomed by all students and school.  I loved the classes and the teachers, and the city is lovely and very beautiful.  The hotel was not as good as the student houses but it was ok for me.
- Sandra Marcia Tanaka | 61yrs | Brazil | Pre Intermediate
The school is satisfactory. The Hotel Alexandra is good and the location is very good. The students were united and loving. Malta is a beautiful and a cheerful place that exceeded my expectations. Alessandra is an employee of prominence and loved by all students.
- Margarete Rocha Massini | 47yrs | Brazil | Elementary
First of all, I'd like to thank everyone.  I loved my time in Malta.  Maybe if I changed my level before, I would have improved quicker because I love to learn with Ray D!
- Lucas Rocha da Costa Filho | 30yrs | Brazil | Upper Intermediate
When I chose Malta as my destination to study English, I thought that it was going to be a good experience, but it was even better.  I met good and nice people who became family, brothers, sisters, mummy and daddy, and friends.  I cried.  I smiled.  I laughed.  Basically I was so happy during these three months of my life.  It was something I really needed.
- Andrea Vicario Jover | 27yrs | Spain | Intermediate
News and Events
Read More
Read More